Being involved in the creative arts supported Corina Duyn in her journey through illness. Her previous work as nurse and care worker, and life with ilness has led to All things Puppetry: Life Outside the (disability) Box puppetry project; puppet making classes; Invitations to give lectures at universities, symposia and puppet festivals. …

Currently only distant learning courses available, through detailed video and printed tutorials, with photos and text of every step. As well as 4 twenty minutes skype sessions during the course. Watch this video and contact Corina Duyn for details. All classes are tailor made for the participants. Open to non-artist. See blogposts about teaching/classes HERE
See Nationwide program aired on 6th June 2018 on RTE1 Irish Television.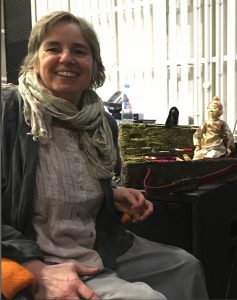 Talks
See/read about my talks: at the Cork Puppetry Festival and II PUPPET THERAPY SEMINAR OF BELO HORIZONTE in BRAZIL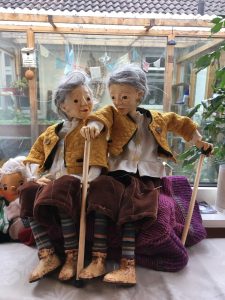 Personal Puppetry Projects
To read more about Corina's most recent puppetry projects, and the stories behind them, please see these BLOG links: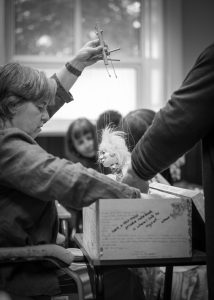 Corina Duyn was one of the speakers at the first Broken Puppet: Puppetry, Disability and Health Symposium. UCC, Cork, August 2017. Read the story here
For 2018 Corina shared her experiences of disability, art and puppetry at the Nottingham Puppet Festival; Puppet Place (Bristol); Bath Spa University, Broken Puppet 2 symposium (Bath), and through a short video at Puppet Power Conference (Calgary).
Read the story here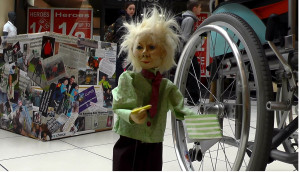 Life Outside the Box Puppetry Project
Life Outside the Box Corina Duyn facilitated the Life Outside the Box Puppetry Project (2015/6) while a member of the Irish Wheelchair Association (IWA) Dungarvan Resource Centre. The film, depicting puppets stepping out of the disability box, has since been screened in Canada, London and on Irish national television. Supported by Create – Artist in the Community Scheme/ Arts Council of Ireland. See the project in the making.
Dis-ability … This Ability exhibition
The initial Life Outside the Box exhibitions were at Dungarvan and Waterford Library in February and March 2016. In November 2016 Corina Duyn curated the Dis-ability … This Ability exhibition at Tramore Coastguard Cultural Centre. The puppets were part of this exhibition. See and read more about it: