Videos and audio recordings about Corina Duyn's work
Corina Duyn's art and writing has been documented in several short videos/documentaries: Fit to Fly, by David Begley and Flight Path by Katie Lincoln. This page also includes videos of Into the Light book in a box – and links to booklaunches, Puppet Adventures, and talks.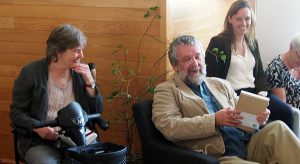 Fit to Fly Documentary by David Begley (2003) about the Art of Corina Duyn during the early years of living with M.E. In two parts. (Please note that the first video starts with black screen for a few seconds)
Flight Path (2006) was created by Katie Lincoln to accompany Corina Duyn's first book Hatched
Into the Light from Corina Duyn on Vimeo.
Book launch:
Abstract of the launch of Into the Light (2015) with talks by Michael Harding and Corina Duyn at Dzogchen Beara
Puppetry/ animation
The Dance of Life – short introduction to animation video
Puppet related films and talks
Talks about life with M.E.