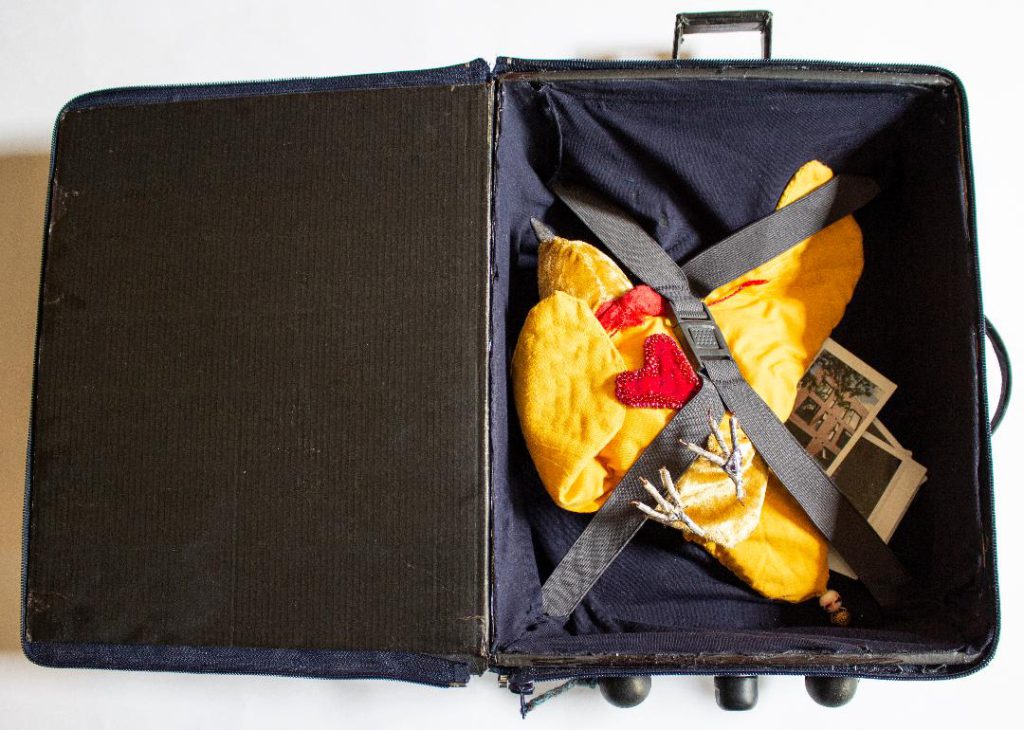 Corina Duyn & Caroline Schofield exhibition at GOMA.
Supported by Waterford Healing Arts Trust, GOMA, and Creative Waterford
I brought the dream of flying…, a new exhibition by artists Corina Duyn and Caroline Schofield, took place at GOMA Gallery of Modern Art, Waterford from 14 January to 11 February 2023. Inspired by a broken-winged bird puppet which accompanied Corina when she moved to full-time nursing home care last year, the exhibition features work made in response to this move and illustrates the new collaborative creative process Corina has developed with Caroline as a result of her increasing disability.
The exhibition was presented by Waterford Healing Arts Trust and GOMA, with funding from Creative Waterford. See full WONDERFUL PRESS RELEASE WHAT or GOMA
We are honoured to have had many of the art from the exhibition included in the creative program of Creative Brain Week in Dublin. 6-11 March 2023. With a lunch time talk at the gallery on Wednesday 8th March 1pm. Caroline will be there in person. I (Corina) will be via Zoom. (Ps Unfortunately I was too ill, but I was 'there' via a voice recording, and the screening of the 'Invisible Octopus' video poem Talk by Maeve Butler (WHAT), Caroline Schofield and Dominic Campbell, Curator and Programmer Creative Brain Week.
Further resources:
Short video of my visit on 31-1-23 YouTube (6 minutes)
Launch talk video on GOMA YouTube (19 minutes)
Invisible Octopus Poem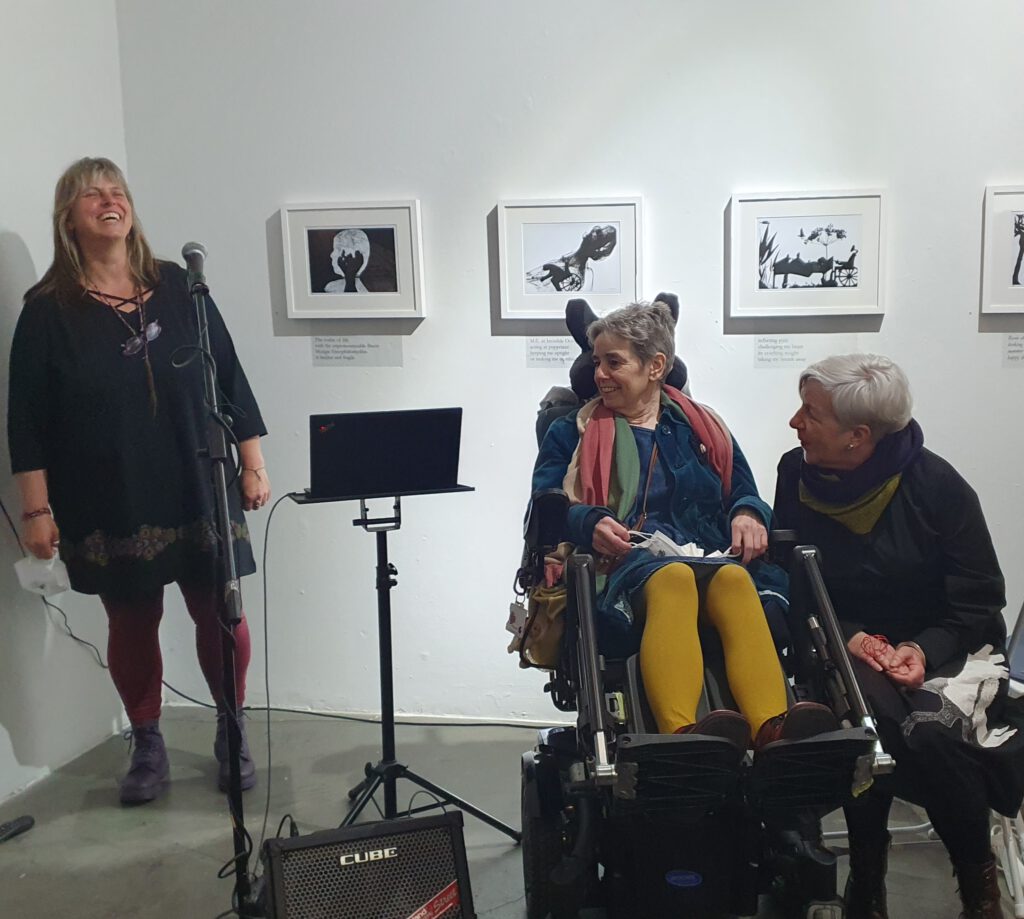 There are many many photos, comments, reviews etc shared on my FACEBOOK page too many share here. I simply am not able, but I hope you can view the posts there.
Radio: To listen to radio podcast with WLR FM's WLR FM's Geoff Harris, Caroline Schofield, and me, recorded in the Treehouse on 23rd January 2023 aired on the 24th at 'On the Fringe' Arts program (15 minutes)
Maeve Butler from WHAT spoke with Geoff Harris with great passion as well as an informative reflective invitation to experience the exhibition on the 17th January To listen back go to listen back choose date: 17-01-2023 'The Lunchbox' 12:00-13:00 section. It starts at approximately 32 minutes in, just over (7 minutes).
And thank you to Waterford News & Star and Munster Express for wide coverage of the exhibition. And all the support, images and reflections shared in person and on social media from many many people. Including the Worldwide ME Communities. ME International newsletter February 2023; ME Global: 'I brought the Dream of flying' Dec. 2022 issue of the ME Global Chronicle. And ME Global Chronicle #44 A word of thanks: ME Advocates Ireland Facebook page
Deepest gratitude.
Looking a bit deeper:
17 December 2022 I published my blog post '600 days (in care) reflecting on life in care and the then upcoming exhibition:
May 2021 I wrote about Moving into the TreeHouse