Life Outside the Box Puppetry Project led by Artist and Writer Corina Duyn with members of the Dungarvan IWA.
The
Life Outside the Box
Puppetry Project came about while I was a member of the Irish Wheelchair Association (IWA) Dungarvan Resource Centre. Since staff and other members were aware of my work I was to facilitate the creation of a series of puppets and a puppet show. Being awarded the
Create - Artist in the Community Scheme
, funded by the
Arts Council of Ireland,
made this happen.

 The puppetry project
Because my fellow members are a very diverse group of people of age and ability, I adapted some of the tools, and looked at who could do which part of the project. As a resul, I had to plan each week's class well in advance, but that is something I enjoyed very much. My aim was that each member would do as much as possible themselves, and where needed ask support from each other. And only then ask the staff for help when required. I had support staff too, which made is possible for me to teach again after a 17 year gap. 
The fun we had during this project,  I will never forget. The enthusiasm and hunger for exploring the next step of the process never ceased. I am deeply humbled by the experience.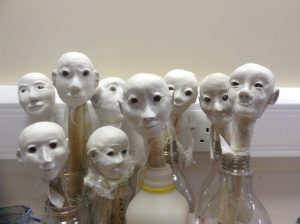 We met every Monday to work on the puppets. Starting with a stick and a strip of cotton, we made the bases for the heads. Over the following six months we made nine puppets, a 
Disability Box, 
a large hand, published a 'fly on the wall' booklet about the process, made a film and hosted so far three exhibitions.  The theme that emerged was that 'society' would like to put us in a 'box'. 
The Disability Box
. But '
Step out of the box and you are free'.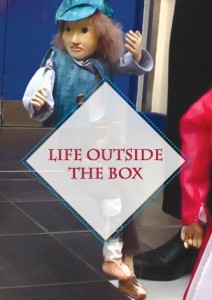 Dis-ability ... This Ability which included the puppetry project
We had two small exhibitions at Dungarvan and Waterford Library in Febraury and March 2016. Since then we our puppets were part of the 
Dis-ability ... This Ability
exhibition, curated by Corina Duyn at Tramore Coastguard Cultural Centre in November 2016.  
We showcased the puppets, but also paper art we made, and books, cards and poetry by individual members. See and read about it on my blog, or on the puppet blog: