Artist and Writer Corina Duyn shares her 'Little Wings' story: A creative journey through illness into a life of wellness and gratitude.

"I don't want to rip the skies wide open, I just want my song to be heard." © Kris Delmhorst
Let me introduce myself
First of all, I would like to thank you for bringing a visit to my 'Little Wings' website. It follows my journey as Artist and Writer and puppet maker. My creative story goes from the first rag doll made at the age of ten, over 40 years ago; to the Fantasy Folk Artist Dolls inspired by the Irish landscape; to the art and writing exploring the internal landscape of illness M.E. (often unfortunately referred to as ME/CFS or CFS), and full circle back again to making puppets.
Fantasy Folk
Growing up in Holland in a creative household I made my first rag doll at the age of ten. Many years later I studied nursing and social care work and moved to Lismore – Ireland in 1990. Here I became known for my clay based Artist Dolls under the name of Fantasy Folk. These works are in private and corporate collections in Ireland, USA, Japan, Canada, Australia, and Holland. One of my last big commissions was for Waterford Crystal, to re-create elements of the factory floor in miniature.
A change of scenery
In 1998 my health deteriorated rapidly, however my creative mind did not stop. It wouldn't stop, even if I wanted it to. I started to make plasticine figures, drawings, collages and paintings about my new existence: living with the condition M.E. A drawing of an egg brought me to the realisation that I was granted a chance of a new life.
From illness to wellness
My creative mind became a tool to learn to live well with illness. I learned I could be 'free' on paper and express my deepest thoughts, fears, and desires through art and writing. Nature became my biggest teacher, and made its presence known in my art and writing. The emerging themes were birds, roots and movements.
Gratitude
To my great surprise but with heart-felt gratitude, my creative adventures were subject of several solo exhibitions, media attention, book publications, documentaries, and new friendships. My identity as 'Artist and Writer Corina Duyn' came fully into being through the various exhibitions and the publication of my books Hatched (2006), Cirrus Chronicles (2009), Flying on Little Wings (2011), Into the Light, a book-in-a-box (2015) and Snapshots (2017). Throughout these adventures, I have been supported by friends and several bursaries. A year of Disability Studies became the catalyst to the writing and art project Into the Light, a book-in-a-box (2015). This project was supported by The Rehab Group Visual and Performing Arts Fund 2014, and shortlisted for the CAP Prize for Independent Authors.
Inclusive Art
Life goes full circle. My past work as nurse, social care worker, artist and living with illness brought me to facilitate puppet projects, Like the Life Outside the Box puppetry project with fellow people living with disability. During the past year I shared the joy of making puppets with others in my studio and via distant learning, and shared my experiences at various puppet-related events.
Adventures in 2018
If you would like to support the work of Corina Duyn, you can do so by purchasing books or art, or make a donation of your choosing.
My deepest gratitude for all the kindness and support I continue to receive.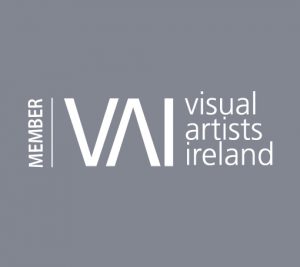 Member of Visual Artist Ireland