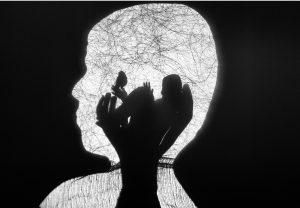 Invisible Octopus Poem:
"Here is a poem, a story, an animation, of a life triumphant under the weight of a debilitating illness M.E., of a woman whose words are her lifeline, an inspiration to others." Dolores Ronayne, Poet.
'Invisible Octopus' poem started off as narration to a puppetry film during a mentoring opportunity with Dr. Emma Fisher, funded by Arts & Disability Ireland Connect Scheme 2019. The publication of the poem received the support of a Professional Development Artlinks Bursary 2020. The shadow puppetry imagery highlight further the stark reality of life with Myalgic Encephalomyelitis (M.E).
The 'Invisible Octopus' Poem (2.12 min) Read by Corina Duyn
This poem and the images in this short video are the bases for the Ribbon of Light exhibition. To read the journey I made to get to this exhibition, please read on my BLOG HERE These shadow images were created on an overhead projector and reflected on the opposite wall. A selection of 12 limited edition A4 prints, A5 greeting cards with abstracts from the poem, as well as a limited edition accordion style A6 booklet with full poem and images are available below.
Visiting the Exhibition (includes video-poem) (6 min.)
To order a poem, prints or cards – see images below – choose from the drop down menu and click 'add to cart'. Please email me with the numbers of your chosen cards or prints. (See numbers under the thumbnail images – by clicking on the image) All including postage, except for orders of framed prints to be posted abroad. Thank you
Limited edition (1/100) 'Invisible Octopus' Poem pamphlet €12.50

Greeting cards: Three cards €20; Full set of twelve cards €50

Full set of twelve cards and Poem booklet

€60

Limited Edition Prints: (1/5):

Unframed €15; Three A4 prints unframed

€40;

Framed A4 Print

€60 *; Two framed prints €100**

*Framed prints includes a copy of the poem booklet.
** Two Framed prints not yet listed in the option section, but if two framed prints ordered, I will refund accordingly. Thank you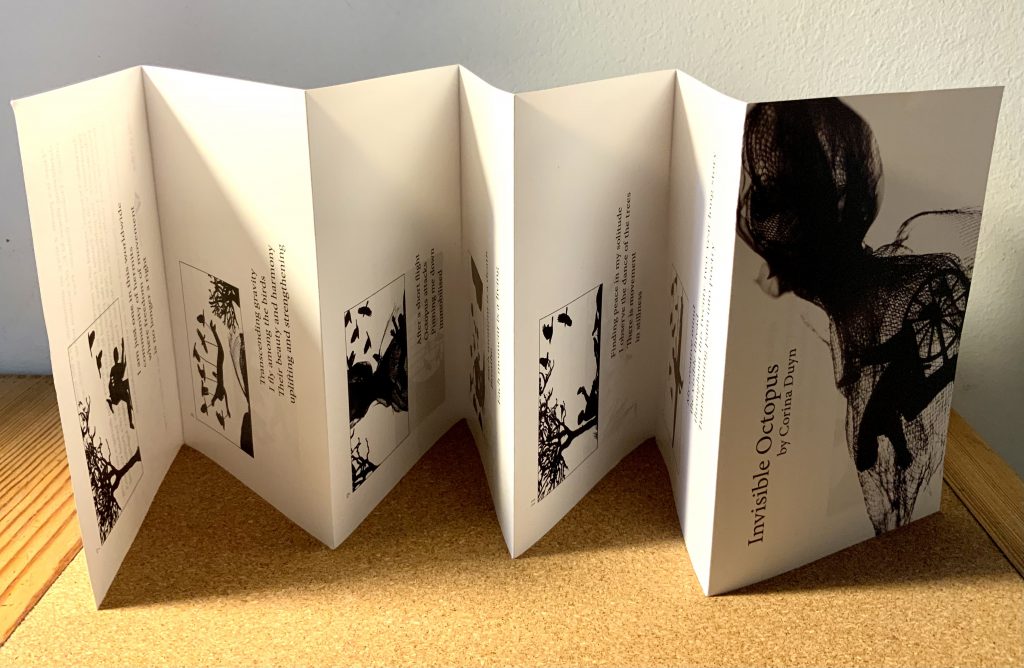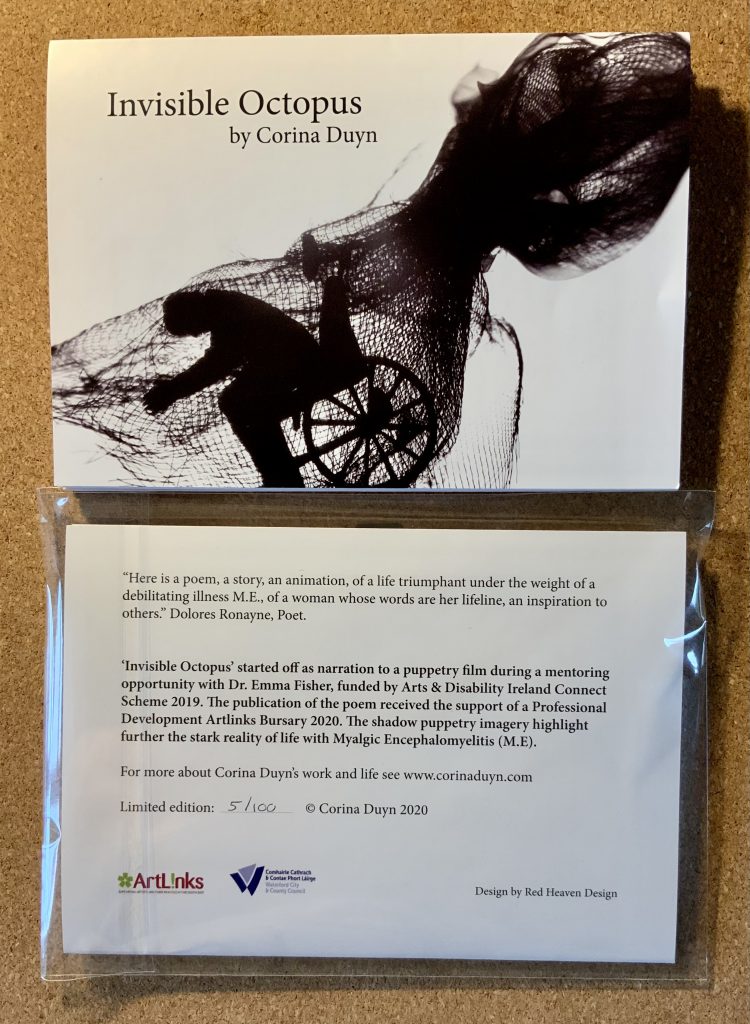 Prints and cards: 1 to 12 (from top left)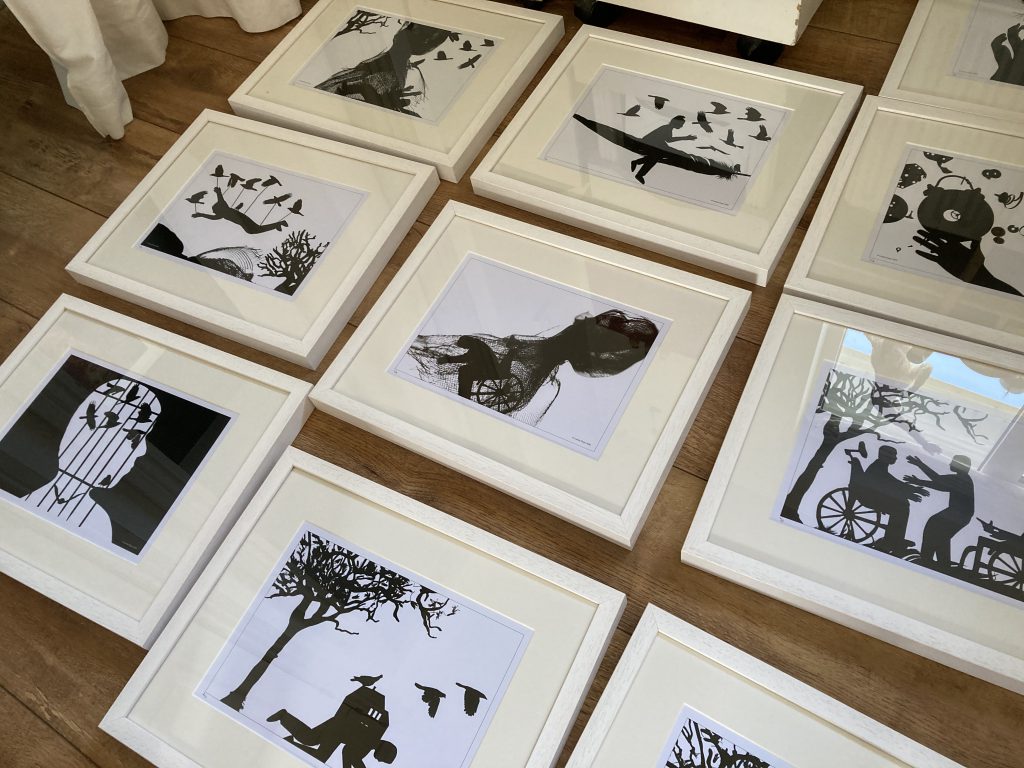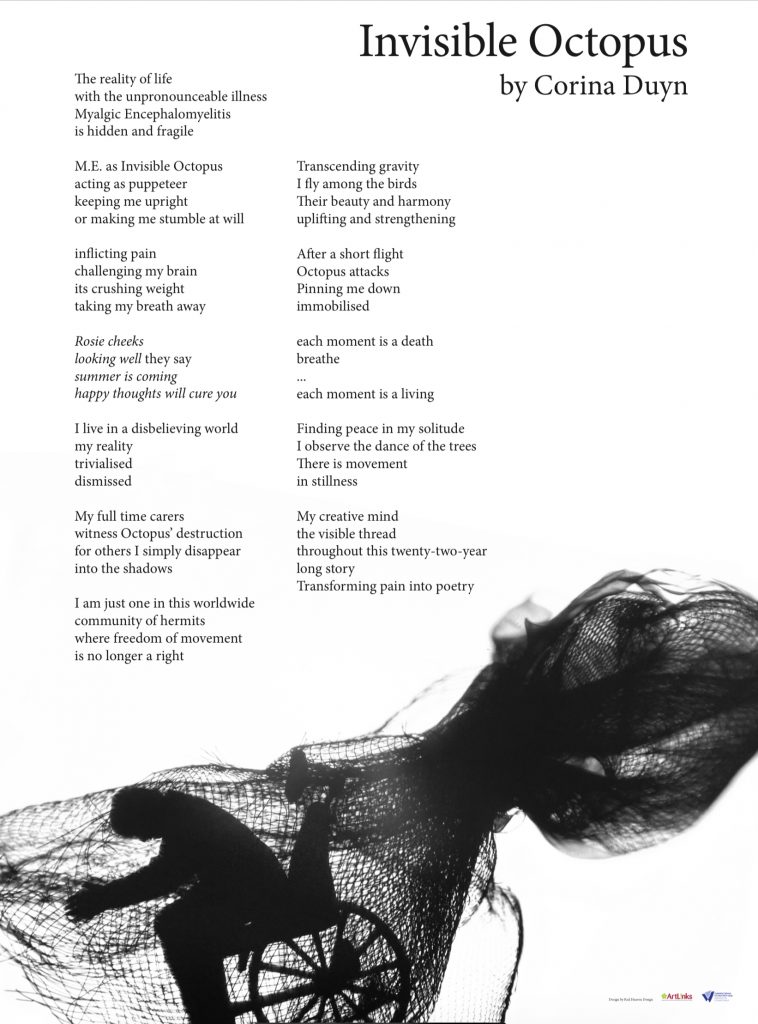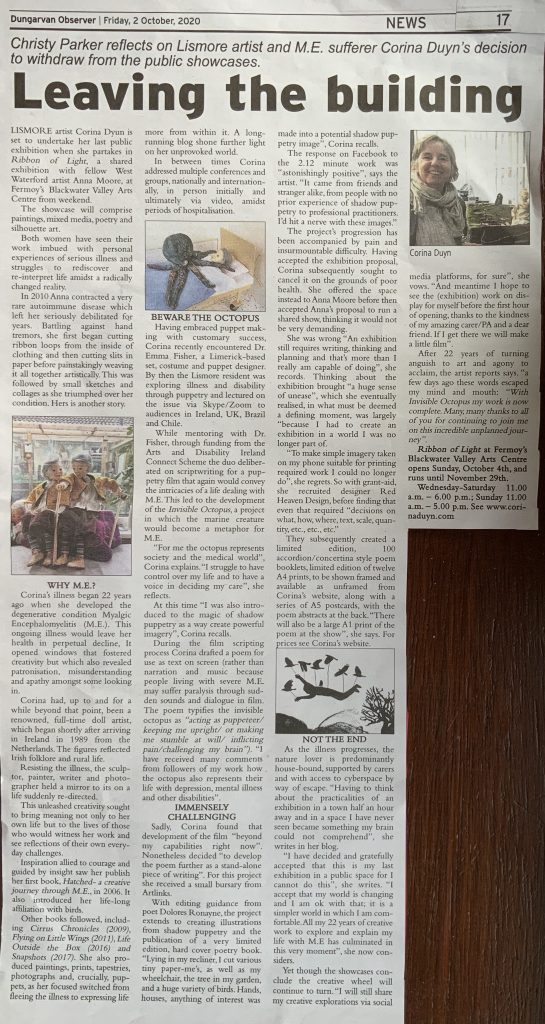 Further reading/listening:
See my article (Dec. 2020) on Arts & Health.ie in their 'Reflections' Series "My Art and M.E.: The Demands of a Creative Mind" A true honour to be asked.
See HERE for a podcast conducted by Emma Windsor from Puppet Place in Bristol exploring my 'Invisible Octopus' project, looking back at how this came about. Question five deals with Octopus, part six why I opted for poetry. Total podcast 24 minutes – individual segments available on Vimeo.
A recent Podcast with Amy Amantea about my work: listen HERE