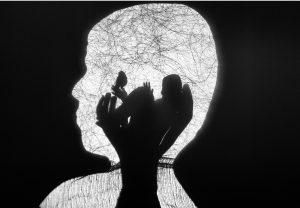 Invisible Octopus Poem:
"Here is a poem, a story, an animation, of a life triumphant under the weight of a debilitating illness M.E., of a woman whose words are her lifeline, an inspiration to others." Dolores Ronayne, Poet.
'Invisible Octopus' poem started off as narration to a puppetry film during a mentoring opportunity with Dr. Emma Fisher, funded by Arts & Disability Ireland Connect Scheme 2019. The publication of the poem received the support of a Professional Development Artlinks Bursary 2020. The shadow puppetry imagery highlight further the stark reality of life with Myalgic Encephalomyelitis (M.E).
The 'Invisible Octopus' Poem (2.12 min) Read by Corina Duyn
This poem and the images in this short video were the bases for the Ribbon of Light exhibition. To read the journey I made to get to this exhibition, see my BLOG HERE These shadow images were created on an overhead projector and reflected on the opposite wall. A selection of 12 limited edition A4 prints were initially created, as well as A5 greeting cards with abstracts from the poem, and a limited edition accordion style A6 booklet.
The remaining 'Invisible Octopus' art/booklet available as 'Octopus Art Packs', containing: 2 prints; 5 cards and Poem booklet. Please note that EACH pack is different, images/cards can not be individually selected. Three packs remaining at discounted rate of €25 including postage worldwide (value €55). Three packs remaining.