Flying on Little Wings by Corina Duyn was first created as a Hand-made book (January 2011). Due to heartwarming response, it was published as a tiny paperback (10×10 cm) in 2011, small enough to carry the words of wisdom from the birds in your pocket. It is out of print as of 8-9-2018, but can be read online – for free – at the bottom of this page.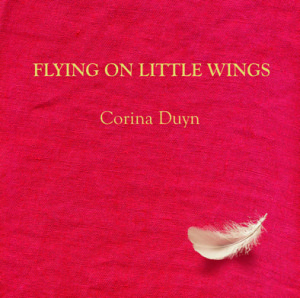 ISBN 978-0-9563589-2-9; 36 pages, full colour, 10×10 cm – Written and illustrated by Corina Duyn – Published by Little Wings, 2011 * This book is out of print
Handmade copies available on request – they are made to order, so will take me up to a week to make and post. €50. Please Contact me if interested.
Endorsements:
"I hope this book will give comfort to people. That they will realise something as simple as a story of a bird taking flight for the first time, against all the odds, against gravity, that for them too, anything is possible." – Ciara Conway – Pat Kiely, Dungarvan Observer 13 April.
'Gentle and wise, the simple reassurance of nature breathing from every page.' – Spark Deeley, Artist and Writer.
… some of the sentiments expressed are gentle and reassuring. It also attest to the strength of Corina Duyn and in her ambition to create such a small gem" – Liam Murphy, Munster Express, 8 April '11
"Chronic illness opened up a stunning world of Creativity for Corina Duyn." – Irish Examiner Feelgood supplement, 15 April '11
'An striking artistic achievement. It will bring joy and admiration to many hearts and minds.' – Brendan Kennelly, Irish Poet
'Stunning photographs and thought provoking words. It can be read many times to entertain, sustain and help keep belief in things to improve. – Sue Page
'Precious' – Dolores Ronayne