Cirrus Chronicles by Corina Duyn is a richly illustrated modern day Fairy Tale for all ages (4 till a 104!). It is the story of Cloud Fairy Cirrus Kalani when he accidentally lands in a field in Ballynelligan, Lismore, Co. Waterford (Ireland). Cirrus encounters birds, Fairies, and befriends Robert Cat and Wally Wood Mouse. He learns about their lives, and there is magic in the air…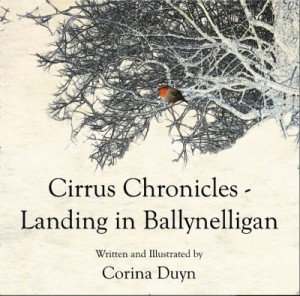 Cirrus Chronicles by Corina Duyn ISBN: 978-0-9563589-1-2; 56 pages, full colour, 14×14 cm – Written and illustrated by Corina Duyn – Published by Little Wings 2009.
(I soon hope to the have to book free to read/download again. Sorry for the inconvenience)
Endorsements for Cirrus Chronicles
"... I love the book … it's very special. I read it last night with my granddaughter Síafra, and we had a great time talking about it. She gave it a hundred out of a hundred!" Actor and story teller Nuala Hayes
"…. I love the real world around Lismore that Corina Duyn has conjured up. Especially the Cloudland International Rainbow Dance Festival, where the cloud fairies dance and eat sky-blue candyfloss and drink rainbow lemonade. You may even learn Cloud-Hole-Jumping. Who knows, but at some future date, people may come to Lismore (co. Waterford- Ireland) to track the habitat of many of the creatures of this book. Liam Murphy- Munster Express
'Cirrus chronicles', a magical book to be launched in Lismore.' On the first glance at the cover of Corina Duyn's new book Cirrus Chronicles – Landing in Ballynelligan is enough to know you are in for a treat" – Antonia Zane – Avondhu 10-'09
Like any good fairy on her travels, Lismore author and all round artist Corina Duyn, will drop in on the children of her local Liosmore Mochuda national school. Corina's underlying hope is that her books 'will encourage adults and children to see the magic and wonder that lies all about us, unimagined and unrecognised in everyday things'. – Christy Parker Corina brings Cirrus to school – Dungarvan Observer 12-'09
Sample pages


Supported by Artlinks 2009 Bursary and IMET (Irish M.E. Trust). Thank you both!