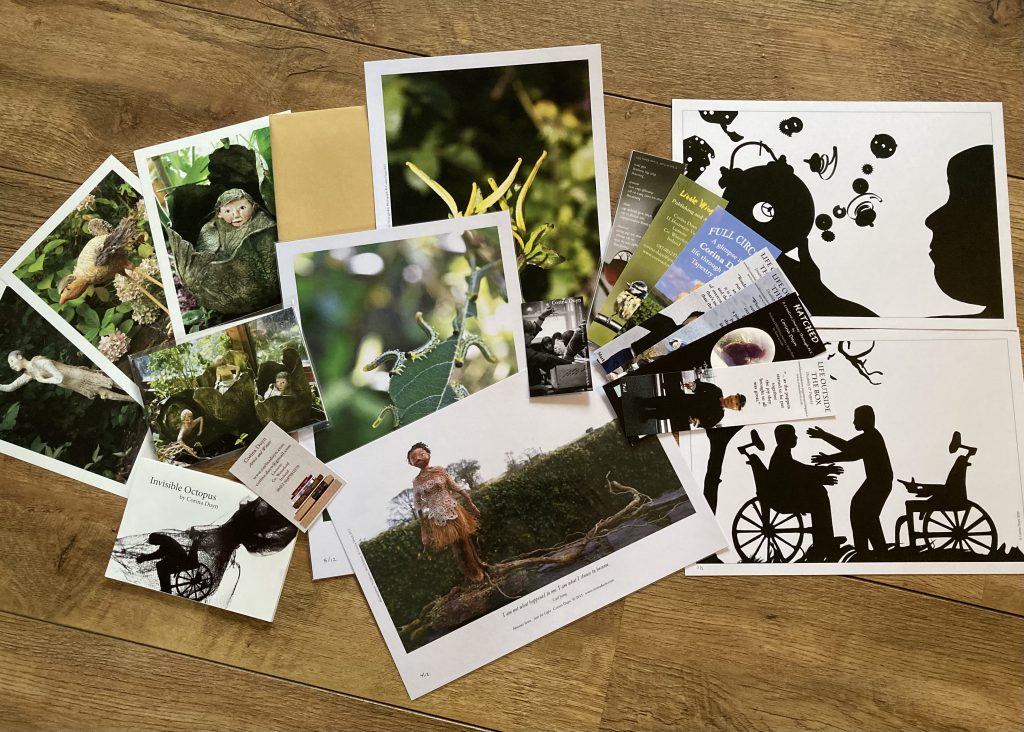 As illness is taking another slice of my life, I have decided to start preparing to let go of my online shop. (Longer story below). With help of my carer we sorted through the remaining printed materials* . To start with we created 'Surprise Art Packs' containing of:
3 x 'Into the Light' A4 prints

one copy of the recently published

'Invisible Octopus' Poem;
2 'Invisible Octopus' A4 prints

5 x Art postcards;

a selection of 'Into the Light' and 'Life Outside the Box' Puppet Project bookmarks;

3 x pages from 'Into the Light' book in a box.
Each pack is different. Available at discounted price of €25 ALL GONE. Sorry
* … "Octopus Art Pack" €25 – 3 remaining see POEM PAGE
The images below are the original Into the Light set of limited editions

Note written on 30-1-2021
Dear friends
Life is ever changing. For everyone. For me personally, illness has taken another chunk out of my life. This time round it seems to have a big impact on my creative brain too. Over the past few years my creative output has been in decline. But there was always a new way to still explore my existence using whatever creative means were possible. This was mostly reflected through puppetry. Which went from making marionettes and 'wheelchair-top' puppets, to hand puppets and ultimately to shadow puppetry. Since my last project 'Invisible Octopus': a poem, a story, an animation of a life triumphant under the weight of illness. Words and images are her lifeline to connect with the world beyond the walls of her home. (Quote by Dolores Ronayne) I have not embarked on any creative adventure. My brain seems blank, for now.
Instead with any availability energy, which is sparse, I am evaluation this new phase of life with Myalgic Encephalomyelitis (M.E.) head on. No escape. I have to look 'Octopus'/ M.E. in the eye and acknowledge its power.
But each change is also an opportunity.
With the help of carers I am continuing to let go of my own creations, and other no longer needed 'stuff'. In the past week we sorted through my remaining published books, art cards, prints, bookmarks, etc all chronicling my creative life. All giving a slice of what living with illness is like. The challenges, the good and the moments of gratitude.
After evaluating what I can do, and what is important to me I made the decision to pretty much let go of my online shop. Mostly with the aim on not having to spend energy on selling my work. The shop will remain in a very skeleton version.
So… The good news for you, my kind followers of my work and life, is that I/we have put together Art Packs which each hold a selection of my work. The first Art Pack holds 3x A4 prints from 'Into the Light', and 2x A4 'Invisible Octopus' prints; the 'Invisible Octopus' poem booklet as well as postcards, bookmarks from 'Into the Light' and 'Life Outside the Box', and a few sheets from 'Into the Light'. The pack is available for €25 including postage to anywhere in the world. (Valued €60 – postage up to €5.70) . Only 20 packs available.
Soon I hope to be putting together an 'Invisible Octopus' Art Pack, as well as 'Book Packs', all at greatly reduced priced. For now some books are available for half price, some even free: postage only. Of others which I only have a few copies lefts are available only via making contact with me. See the relevant book pages on my website for details.
Best wishes to all.
Note:
The 'Invisible Octopus' poem has been published on my website https://www.corinaduyn.com/site/poem and as video-poem on YouTube during September 2020. https://youtu.be/nXlq4QiR11c