I am about to publish 
Snapshots 
and this page is for pre-order offers -
a kind of Crowd Funding Event
.  Offers include signed book order with FREE postage, and sets of book/postcards/prints offers.
Sorry, these offers closed on the 14th May 2017. The book can be ordered from my shop page
Thank you!!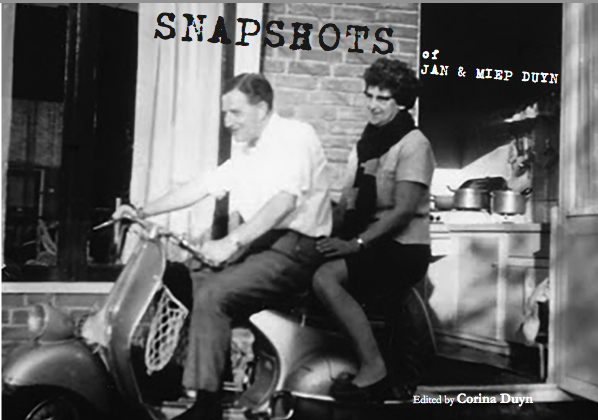 About SNAPSHOTS :  A5, landscape, paperback. 96 pages. Black and white. ISBN 978-0-9563589-5-0 in both English and Dutch (Nederlands) Limited edition of 100.
Snapshots is a book about the challenges of life, but also about resilience, creativity, and joy. 
The compiling of Snapshots was like an Archaeological Dig. Unearthing the stories of my parents Jan and Miep Duyn.  It is filled with anecdotes and images about their lives. Although it is a book about one family, it has many universal elements: Anecdotes written by Miep about her childhood in The Netherlands of the 1930's. Experiences of life during the WWII, written by Jan and Miep. Some stories are funny; others will take your breath away. Snapshots concludes with memories written by their six children.
Snapshots is een boek over de uitdagingen van het leven, maar ook over veerkracht, creativiteit en vreugde.
Het opmaak van Snapshots was als een archeologische opgraving. Het tot licht brengen van de verhalen van mijn ouders Jan en Miep Duyn. Het is gevuld met anekdotes en foto's over hun leven. Hoewel het een boek over één familie, het heeft vele universele elementen: Anekdotes geschreven door Miep over haar jeugd in 1930's Nederland. Ervaringen van het leven tijdens de Tweede Wereldoorlog, geschreven door Jan en Miep. Sommige verhalen zijn grappig; anderen zullen je de adem benemen. Snapshots eindigt met herinneringen geschreven door hun zes kinderen.
To take the Crowd Funding Model, there are various options: ...
The offers have now closed. please see Shop page to order your copy, or if you like, please make a donation of your choice (without a book order) to support my work, no matter how small, each little gift is equally appreciated.
Further Reading:
Thank you Funders: Petrus Tetteroo, Eimear Forde, Sali Smith, John Eno-Dayes, Anja Spaargaren, Jackie Langley, Louise Clarke, Anna Moore, Theo van Tunen, Dolores Ronayne, Joop Duyn, Peter Duyn, Anastasia Palmer, ...