Corina Duyn has been invited to speak in the UK about Puppetry & Disability. Starting on the 23th March 2018 at Nottingham Puppet Festival. Followed by talks at Puppet Place where she will also has an opportunity to enhance her knowledge and practical skills. Finishing on the 14-15th April at Broken Puppet 2 Symposium on Puppetry and Disability. Corina would be most grateful for any funding support to make this possible. * Please scroll down for further details. Added: interview on World in View – see link below!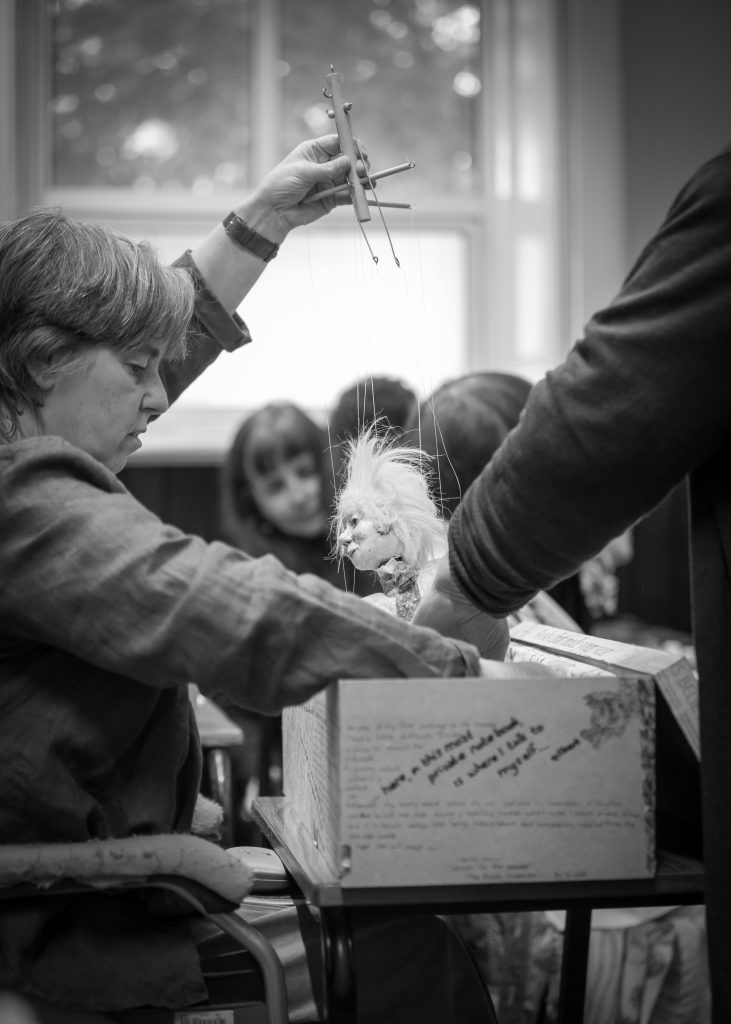 Ways to support:
Through a donation, with the amount of your choosing.

Purchase Books which Corina gladly signs with a personal message.

**

Please note

Last book/print/card orders will be posted on the 19th March – And again from 18th April. Thank you.
Many, MANY thanks for your kindness. And may I please ask you to share this page on social media or with your email contacts?
* Further details:
The background
During the now almost twenty years of living with M.E. Myalgic Encephalomyelitis I used my creativity to learn to understand my utterly changed life. This in turn became a way to be part of society. To communicate with the world beyond my walls. It has been a challenging, but also a beautiful journey. (If I don't think too hard how utterly strange my life is).
The past four years I delved into the world of puppetry through making puppets, writing their stories, and researching puppetry especially in relation to disability. I also facilitated the Life Outside the Box Puppet Project with people with disabilities, and did small workshops. As a result I suddenly find myself at an amazingly exciting junction: to be invited as Keynote speaker at the Broken Puppet Symposium, and at Nottingham Puppet Festival, and to give workshops, lectures, and meet others involved in puppetry & Disability in the UK. This four week long adventure starts on the 21st March. Blog: M.E. and the amazing opportunity to travel to the UK
The reality
Due to my illness/disability, I am unable to travel on my own. I need support throughout this time. I also need to avail of wheelchair accessible, and reasonably quiet accommodation. To help me fund this amazing, life changing opportunity, I had requested funding from an arts organisation. But I was turned down. So far without explanation. I believe – possibly not justified – that perhaps this is because puppetry is not seen as a legitimate art form, and maybe illness/disability and need for PA support is just too complicated to look at. Hense the request from you, readers of my books, followers of my art, fellow artists, others living with illness/disability, friends and family,… to ask for support. If you like to contact me for further details, please do so here
The goal
I am hoping to raise €2800, which is €100 for each day, this will go towards accommodation, and one meal a day. I will update here regularly how much has been raised, with your amazing kindness. Every extra Euro/Sterling more will go towards all the other costs… PA Support, breakfast and dinner, taxi's…
So far (including donations, and purchases made in the past few weeks) I have raised 104% (Updated Friday morning evening 16th March – Backed by 49 incredibly kind people.)
THANK YOU
My deepest gratitude for your amazing kindness and for continuing, or becoming, part of my journey.